Braised Vegetable Stew
LCBOでもらってきたFOOD & DRINK AUTUMN 2009の中から。
(レシピはP62に掲載)

Braised Vegetable Stew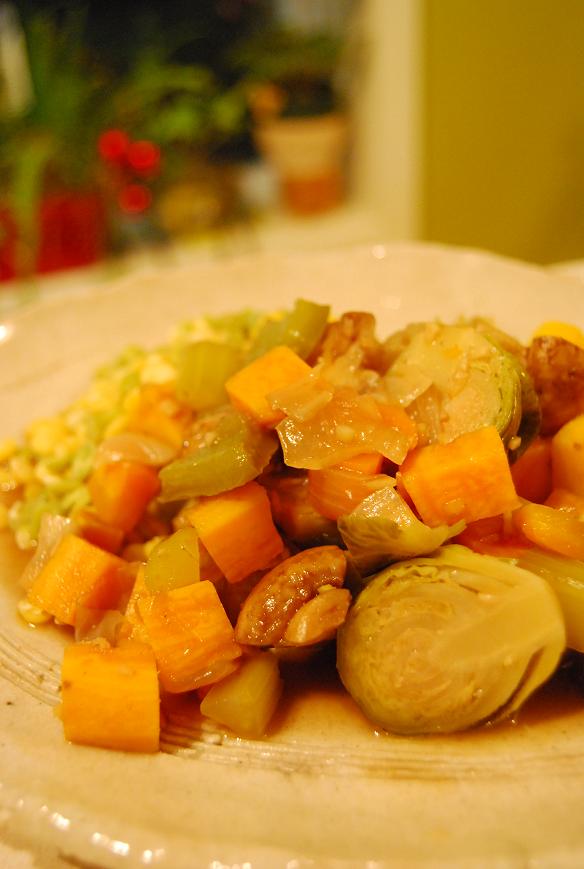 雑誌に載ってる写真とは似ても似につかぬ代物ですが。。
お味は

GOOD



野菜は家にあるものに置き換えて。

横には塩ゆでしたSplit Green PeasとSplit Yellow Peas、
蒸したAcone Squashを添えて。

フライパンで炒めた後、オーブンで火を入れていくのですが
オーブンを予熱するのが面倒になって、そのままフライパンで蓋して
火を通しちゃいました



Coryさんも
「コレまた食べた~い

」
と言ったくらい美味しいです



リピありです

Braised Vegetable Stew
2tbsp vegetable oil
1 red onion, cut into 1 inch thick wedges,
and separated into petals
2 cups large cauliflower florets
1 large sweet potato, peeled and cut into 1.5cm chunks
2cups Jerusalem artichokes, peeled and cut into 1 inch pieces
1tbsp chopped ginger
1tbsp chopped garlic
1 cup shopped fresh plum tomatoes
1+1/2cups vegetable broth or water
1tbsp balsamic vinegar
1/4tsp Asian chili sauce
9 shiitake mushrooms, stems removed, torn into pieces
1+1/2cups watercress springs
1. Preheat oven to 325F(160℃)
2. Heat vegetable oil in a Dutch oven over medium heat.
Add onion and saute for 1 minutes.
Add cauliflower, sweet potato and Jerusalem artichokes
and saute for 10 minutes or until softened and slightly colored.
3. Add ginger and garlic and saute for 1 minutes or until fragrant.
Add tomatoes and stir to combine.
Add vegetable broth, vinegar and chili sauce.
Bring to boil, cover and place to pot in oven.
4. Braise vegetable for 20 minutes, add shiitake mushrooms
and cook 5 minutes longer until vegetables are tender
and broth is full of flavor.
Stir in watercress and return to oven for 5 minutes or until wilted.
Serve stew over couscous, rice, pasta or lentil and top with pappadum.
Serve 6